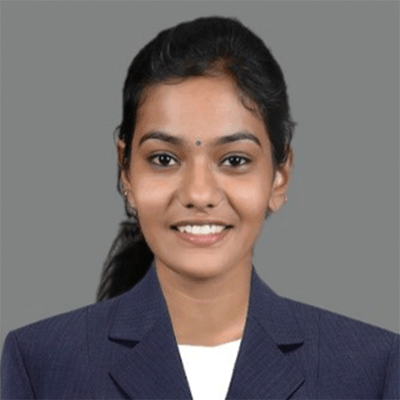 Ms. Gnana Sanga Mithra S.
Gnana Sanga Mithra S. has a B.A. and an M.A. in Sociology, and is currently pursuing a doctoral degree in Sociology, specializing in Transgender Studies. Sanga Mithra focuses her research on gender studies, having published papers in Scopus Indexed journals and also presented and participated in many national and international conferences and seminars.
Sanga Mithra has been awarded by the Lions Club of Pollachi for the highest score in higher secondary education. She served as a PRO in the Loyola Students Union and was elected as a student representative president for the Anti-harassment Cell at Loyola College. Sanga Mithra was a Students' Representative during her postgraduate studies, and her contribution was appreciated by the Department with the Star Performer Award.
Sanga Mithra has been awarded the Raman Research Cash Award by VIT, Chennai for the Best Research Paper published. She is an external resource person to various colleges and NGOs. Her areas of interest include essentials of sociology, sociological theory and gender studies.
B.A (Sociology)
M.A (Sociology)
NET
(Ph.D.)
Gender studies, Transgender studies.
Research interest in the area of gender and transgender studies.
Worked in UNICEF and ICMR(NIRT) projects and associated with SMILE foundation NGO as a resource person.
Subject Specialization in Research Methods, Sociology of Law, Essentials of sociology, and Sociological thoughts.
3.5 years of teaching experience and worked on UNICEF, and ICMR (NIRT) projects.
A Sociology graduate from M.O.P Vaishnav College for Women and a postgraduate in Sociology from Loyola College, Chennai. Qualified UGC-NET and currently pursuing a Ph.D. degree at Vellore Institute of Technology, Chennai.
Professional Achievements
Raman Research Cash Award for best publication.
Overall girls' sports championship award during the year 2007
Outstanding Performer award by Rotary Club of Pollachi for three consecutive years (2008,2009,2010).
School topper award for securing the first rank at 10th grade.
Raman Research Cash award for best research publication.
Star Performer award by Department of Sociology, Loyola College.