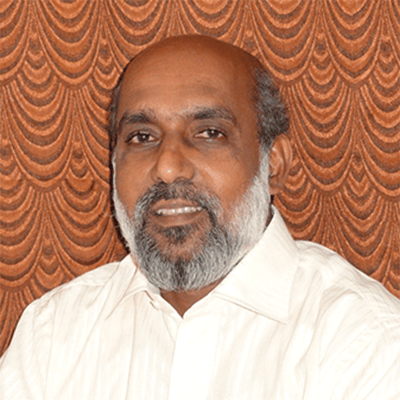 Dr. Arputham is a lawyer and an academician with nearly four decades of experience in administration of higher educational institutions. He is an author and has several books and publications in Tamil and English to his credit. Previously, he was the Principal of Dr. Ambedkar Govt. Law College, Puducherry.
Dr. Arputham is actively involved in the development of higher educational institutions in Tamil Nadu. He has been instrumental in promoting moot court competitions, seminars, workshops and colloquia in the state. He has also helped organize the first all women's moot court competition. Similarly, he also organized three moot court competitions for the benefit of Tamil-speaking students in Tamil Nadu.
To recognise his contribution to the development of "Satta Tamil" through the authorship of seven law books in the language, he was awarded the "Satta Nool Sirpi" by the Bangalore Tamil Sangam.
Dr. Arputham was the Chairman of the Board of Studies in Law (UG & PG), Puducherry University, as well as a member of the Academic Council of Puducherry, and the Tamil Law University, Puducherry.
Ph.D. – Tamil Nadu Dr. Ambedkar Law University

LL.M. – 

Kerala University – Gold Medalist
B.L. – Madurai Kamaraj University
Senior Research Fellow
Administrative and Legislative Aspects of Environmental Control in Western Ghats undertaken by University of Cochin, Kerala
"Satta Nool Sirpi"
Recognizing my contributions towards the development of Satta Tamil by authoring 7 Tamil Law Books, the Banglore Tamil Sangam awarded me with the title –  "Satta Nool Sirpi"
Tamil Books
நிர்வாக சட்டம்

ஒப்பந்த சட்டம் பொது கோட்பாடுகள்

சிறப்பு ஒப்பந்தங்கள்
தொழிலாளர் நலச்சட்டம்
வழக்கறிஞர் நெறிமுறைகள்
இலவச சட்ட உதவி
தகவல் அறியும் உரிமை சட்டம்
English Books
Administrative Law
General Principles of Law Contract
Special Contracts
Labour & Industrial Law
Professional Ethics
Legal Aid & Public interest Lawyering
Right to Information
Ambedkar and the Indian Constitution
[Compilation of Articles from different Scholars like Dr. NR Madhava Menon]